Apply Your Makeup Like A Pro!
Make A Million Dollar Impression: Entrepreneurs' Essential Step-by-Step Makeup Guide to Creating An Effortless Look You'll Love
Get Your Hands On This Unique and Amazing Bundle of Products! 

Your Million Dollar Brand Starts With A Million Dollar Look!
By investing in this bundle TODAY here's what you'll get!
Step-by-Step Make Up Guidebook
Video tutorial for applying your makeup like a pro
Our 5 Must Have Products Cheat Sheet! - You'll love this even if you don't wear makeup normally!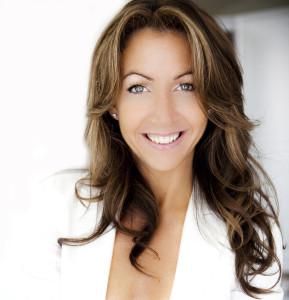 Hi I'm Nikki Incandela, Photographer and Visual Brand Specialist. I specialize in supporting high level entrepreneurs, coaches, authors and speakers to develop a dynamic visual presence.
One of the things my clients constantly tell me at the start of our work together is: "Nikki! I'm not really into wearing a lot of makeup!" To which I always respond, "Makeup is not about covering up or hiding who are, it's only an enhancer" 
Connection is KEY in having your images actually make money for you! Enhancing your features allows people to connect more intimately with you on film, from stage, in videos and at events.
When they connect with you, they buy from you. Not to mention that I personally NEVER liked myself in photos until after I was trained in makeup and then the features I DID like popped and I wasn't so focused on my insecurities. This created a newfound confidence that I then started to see blossom in my essence in my images.
What a GREAT feeling!!
In my new guide: Million Dollar Impression: Entrepreneurs' Essential Step-by-Step Makeup Guide to Creating An Effortless Look You'll Love I will teach you my best makeup application tips and techniques learned from being trained myself, hiring & working with MANY professional makeup artists throughout the years AND photographing literally hundreds women and entrepreneurs.
You'll walk away feeling confident knowing that you always look like your most photogenic self, fresh, radiant and younger. In other words, your most flawless essence!
Here's Some of What You'll Learn in My Book,
A little known camera phone trick that works wonders and ensure your makeup application is consistent
My favorite all around lip color for photos
Selecting eye lashes best suited for you and how to apply them
Included throughout the guide you'll find several awesome bonus tips all marked by a "sweetheart kiss" to help make your makeup application process go smoother!
Also highlighted throughout the book are extra makeup tips specifically for the camera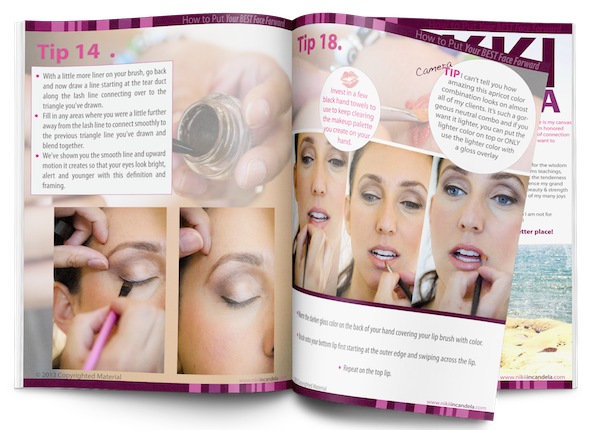 Apply Your Makeup Like A Pro Video Tutorial
Our eyes are the mirror to the soul as well as being our key connection point with others, These simple techniques will show you, you'll know how to make sure your eyes pop!
If you want to draw instant attention to your face master eye makeup application, especially if you wear glasses! 
Discover why it's crucial to your success in business to embrace applying your makeup properly. When you do you will create a greater connection with your audience in any situation. Remember, connection is your currency!
Discover the #1 area overlook when applying bronzer as well as the difference between bronzer and blush
How to determine if you should apply your foundation before you apply your eye makeup
The simplest way to add instant longevity to your makeup that also fills in fine lines i.e. "wrinkles"!
THE #1 Makeup Secret For Photography That You May Not Know About AND Most Certainly Aren't Doing Yet
You'll feel like you have a personal makeup consultant on stand by  24-7 (even in the bathroom) LOL!
Re-watch anytime you need a quick applicaton refresher
The 5 Must Have Products Cheat Sheet
Even if you don't wear makeup normally this is the most efficient easiest way to make sure you're covering your basics on looking amazing.
This Cheat Sheet contains the 5 makeup basics that every women and entrepreneur should do regardless of if you makeup or not. It's like Cliff Notes for Makeup! VOILA!
The Big Truth That Everyone In The Media Knows About Makeup
Contains my top 5 makeup tips that every entrepreneur or media person should have in their back pocket!
Keep this PDF bonus handy, download to your phone or tablet for easy reference anytime to make sure you're always camera ready and always on brand!
Inside A Professional Makeup Kit
Detailed inside this guide are brushes, products, and colors used to create our beautiful example for you so you know exactly what to purchase for yourself
We've thought of everything for you so it makes it more efficient for you to do your makeup like a pro!
This Bundle Is For You If:
If you dread seeing yourself tagged in photos on social media because you just don't like the way you look 
If you shy away from the camera, or if you've just never seen a good photo of yourself
If you've never really known how to apply your makeup and it just seems to overwhelming to deal with 
If you just don't have time to make you look as good as you want to look when you leave the house everyday
If you answered "YES", this bundle is for you!
Transform your look from "everyday" to photo ready with these step by step makeup tips to get you looking your best on the outside…..so that you're matching the best you are on the inside!
Make sure YOUR kit has the right tools and YOU have the right technique to look amazing in photos!
The biggest secret tip a woman needs to know for her photo shoot!
Get the secrets only I and my makeup team share with my top level VIP Clients for looking like a million bucks in every photo!
Client Testimonial:
"As a professional women who spent 20+ years in the Fortune 50 corporate world I really had little idea how to create an image for professional photographs that captured my essence as a person.  I was deeply grateful to have the opportunity to work with Nikki. Not only did she make me feel relaxed with her gentle style she also generously enhanced my image with professional makeup and styling that brought out my best.  The images that Nikki captured are the most beautiful and authentic pictures ever taken in my life. This was accomplished through the blend of Nikki's photographic talents and her ability to enhance my visual appearance with makeup, hair and style coaching. I use the tricks she taught me in my daily makeup and I love them."
Dear friends

Thank you so much for your interest in sharing in this journey together and being a part of this Photo Makeup Tips guide.

Please know that it is the inner beauty that is of most importance! Allowing who you are really are to shine through, is the most gorgeous YOU you can be. Trust me, it is the self acceptance piece that has been a big part of my personal journey.

As I get older I discover more beautiful things about myself and that is also reflected in the people around me. THEY are amazing and they love me so much so I know that I must be doing something right 😉

But I have decided that life is about love, joy and those incredible connections we share. The most important connection though is to oneself! You will be so much more available and present with those you love if you love yourself first.

Know that you are worthy! Love who you are!
And be your beautiful unique self 😉
……… Inside & Out!

Nikki 😉
Now go have some makeup fun!!